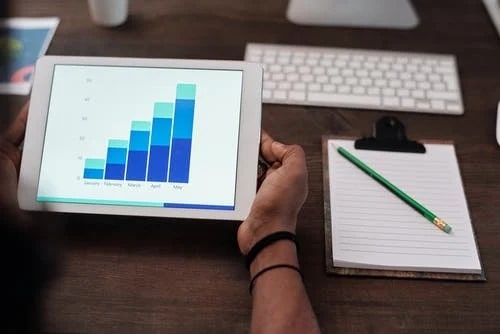 Measuring Marketing Success
At its core, the goal of marketing is to increase revenue while lowering the overall cost of customer acquisition. A successful marketing strategy in Boston content marketing for 2021 and beyond can be judged via a variety of metrics. To maximize efficiency in evolving your business's strategy while moving through campaigns, a numeric scorecard that can provide snapshots of performance in pursuit of definitive company goals is a vital component of any marketing effort or department. A company needs a basis for assessing effectiveness that can be applied to determine if intended business goals are being achieved.

What Is An Effective Marketing Strategy?
There are several dozen standardized metrics for measuring the efficacy of a brand's marketing strategy, but not all metrics are created equal. Let's take a deep dive into some of the marketing metrics that are most effectively applied to determine the success of a digital marketing strategy versus those that are best used to measure more traditional marketing channels. The best part is that these activities do not need to blow your budget.
All campaigns, regardless of channel, should begin with a goal, or goals, because without setting a goal you have nothing to strive for, or a way to measure success. Goals in marketing can be broken down into five main areas:
Building brand awareness: To raise the profile of your brand

, a brand first has to be established. Your brand is your company's "personality" and the unique voice it uses when interacting with the public on any platform.

Generating a high volume of quality leads: Sales professionals need constant streams of leads

to nurture relationships to convert these relationships into clients. 

Establishing and maintaining thought leadership: Regardless of industry, your company should be eyeing the goal of being recognized as experts in your field. This happens when a company has consistently been able to demonstrate a high level of knowledge and credibility.
Increasing customer value: It is no longer the singular goal of marketing to acquire customers by generating new business. The goal of surprising and delighting your current customer base (the people your business already depends on) can help retain and grow your existing customer base by educating them on the additional services your company can provide.
Empowering colleagues to become brand ambassadors: Internal communications have also become the focus of many campaigns. Educate employees about the brand's target persona and provide enough information so that all employees can talk about the company with confidence when selling or providing services to your clients.
Channels
MBA students who learned their trade in the last century were taught by rote that there were four – and only four – types of marketing channels. This included direct selling, selling through intermediaries, dual distribution, and reverse channels. The channels, by necessity, focused on the supply chain because there were no alternatives to those established silos. Those days are over, and five brand new marketing channels should be your priority for Boston content marketing in 2021:
SEO: The standout marketing channel for acquiring traffic and leads. Statistically, 68% of online interactions begin with a search engine. Active searching for answers means that your optimized website can draw in leads by anticipating and evaluating search trends.
Social Media: A powerhouse marketing tool that continues to grow, and may eventually exceed search engines as the method that browsers use to research products and services. The interactive component offers a unique opportunity to engage directly with clients and potential clients, along with the ability to build and direct the community around your brand. There are multiple social media platforms

, and each offers different audiences, along with slightly varied methods of engagement.

Email Marketing: Ignore the musings of the Gen Z'ers that say email is dead. 92% of online adults continue to use email, and the fact that users generally have to opt-in to receive communications from your brand means that your company's email newsletter or updates are reaching a self-selecting group of highly qualified leads.
Referral Marketing: The ghost of selling through intermediaries, referral marketing allows for trusted friends of clients to become your potential salespeople. Satisfied customers are the gold standard in referral marketing, and thanks to social media and the potential of viral content, those customers now have a longer reach than ever before. so this channel is best reached through efforts to delight your current clients.
Video Marketing: No longer applies to shelling out millions for a prime commercial spot during the Super Bowl. Content is still king, and video marketing done properly can help boost conversions by directly advertising your product or service, creating how-to videos, addressing customer questions, and even offering live streams that serve the additional purpose of building brand awareness.
How to Measure Marketing Effectiveness
Until the advent of social media and the "new" (re: current) market landscape. The only way a company had to reach customers was through outbound marketing approaches, which involved imprecise strategies that were extremely difficult to measure. The costs of marketing strategies (including the allocation of capital to television, radio, print, and billboard advertisements) could not be separated into silos to determine which strategy was driving revenue. Measuring marketing effectiveness in a digital world depends on several key performance indicators (KPIs), and your Boston content marketing agency should be measuring these ten KPIs at a minimum to analyze success and make adjustments to strategy:
Sales revenue

Cost per

lead acquisition

Customer lifetime value

Online marketing return on investment (ROI)

Site traffic to lead ratio

The ratio of marketing qualified leads to sales qualified leads

Form conversion rates

Organic search

Social Media reach

Mobile traffic
Reach Out To A Boston Content Marketing Agency Today
A GoingClear team member can create a brand new marketing strategy or analyze and hone your current campaigns and goals. If you're intimidated by or unfamiliar with any of the preceding terms, that's perfectly fine! Your Boston content marketing specialists are here to remove stress and confusion from the process of transforming your company's marketing strategy and taking your business into its next new and exciting iteration. Contact us today to get started!