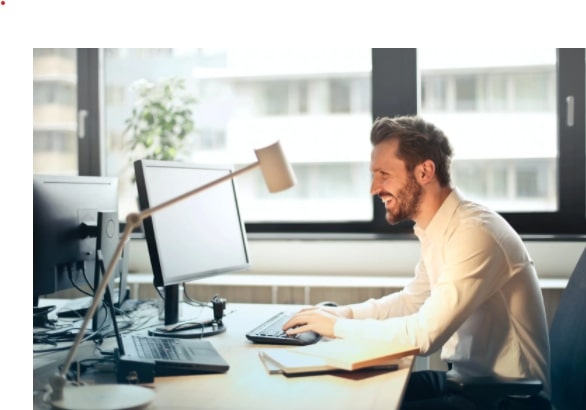 Though many B2C marketers have shifted their efforts to social media, email marketing for B2B businesses is still an important and effective tool for a variety of reasons. For your campaign to meet B2B email benchmarks, it is crucial to use current best practices rather than relying on outdated strategies that may not only fail to produce results but could alienate potential customers. 
Navigate Your B2B Marketing Challenges.
B2B Email Marketing Benefits
Email is a vital tool for all businesses, so it makes good sense to use it to reach business buyers. Though today's internet users are fairly savvy when it comes to being "sold" to, email marketing for B2B businesses offers numerous benefits that cannot be adequately matched by other marketing techniques:
1. Cost-Effective
Many of the marketing strategies traditionally used by B2B businesses can be quite costly, especially up-front. Email, on the other hand, is something your company and your audience already have, providing a very high return on investment (ROI). 
2. Easy To Launch
It is fairly fast and easy to begin your email marketing campaign. No special equipment is needed, and anyone can write an email. You will need to create an appropriate content strategy to meet your audience's needs but that is something that can be adjusted over time.
3. Focused On Relationships
An email marketing strategy for B2B businesses enables two-way communication with your audience. B2B buyers can read your emails at their convenience and reach out to you at a time that works for them, rather than feeling pressured by an in-person sales pitch they may not be available to hear at the moment. They can ask clarifying questions and you can respond, so they will feel in control of their experience.
4. Mobile-Friendly
In the modern world, professionals are constantly on the go. Your business buyers may not be able to bring their computers with them to meetings or while traveling, but they will certainly have their cell phones. Optimizing your business website for mobile devices is always a good idea, but it is a larger undertaking that requires a substantial investment of both time and money. Email, on the other hand, can be easily read from just about any mobile device and can be responded to from pretty much anywhere. This means that email stands a much better chance of being consumed than other types of marketing collateral. 
5. Measurable
For a marketing campaign to be useful, you have to know if it's working. Unlike strategies like direct mail, there are some simple ways to tell who is reading and responding to your emails, so you can make necessary adjustments to your B2B email marketing strategy.
B2B Email Marketing Benchmarks
The metrics used to examine the success of B2B email marketing campaigns change periodically with technological advances and changes to user habits. The most common B2B email marketing benchmarks to measure today are:
Deliverability: whether your B2N marketing emails reach your user's inbox
Bounce rate: the number of emails that do not reach inboxes due to incorrect information or spam filters
Open rate

: the percentage of total addressees that opened your email

Click-through rate: the percentage of total subscribers that click on an image or link included in your email marketing content
Click-to-open rate: similar to click-through rate, but this number is the percentage of email viewers (those who opened the email) to click on a link or image in your email, to measure the immediate response to the campaign
Unsubscribe rate: the percentage of users who opt out of getting further emails from your company
Using Best Practice In Email Marketing For B2B Businesses
To make the most of your B2B email marketing campaigns, you will need to consider several factors. Use these best practices to guide your email marketing strategy. 
1. Create goals for your campaign
Know what you hope to achieve with your email marketing campaign so you can accurately measure whether your goals are being met. Are you trying to generate leads or simply establish your brand as an industry leader? These goals may change over time, but it is important to keep your eye on the prize. Make a solid detailed plan to achieve and measure those goals and be prepared to adjust the plan when needed.
2. Know your audience
The whole point of an email marketing campaign for B2B is to build long-term relationships with your audience. This is not possible if you do not understand what they want. Do research, or ask them directly through surveys and questionnaires. Make sure that any data you are using is good, accurate information.
3. Pay attention to "from" name and subject line
If you want your marketing emails to get opened, they need to look like real emails. Include your brand name or another familiar term so that it doesn't appear to be spam. Make sure that each email has a subject line with a "hook" that offers something or summarizes the value of your content in just a few words.
4. Create compelling and relevant content
While a subject line may get your emails opened, it's what's inside that keeps your audience coming back for more. Make sure your content meets your audience's needs, solves their pain points, and educates them. Mix it up a bit by offering curated content, special deals on products, or a behind-the-scenes look at how your business operates. Your emails should connect with your audience and encourage them to interact with your brand on your website, social media channels, or in person.
5. Automate your email marketing campaign
Automation lets your emails do the work for you. Create your content ahead of time and set up specific dates for emails to go out. The best way to do this is to sign up with an email marketing service that can even track all the analytics discussed above. 
Get In Touch With Boston's Top B2B Email Marketers
The best thing about email marketing for B2B businesses is that it is very customizable and offers many options. Contact GoingClear to discuss the best way to use B2B email marketing benchmarks to generate leads and create loyal customers.