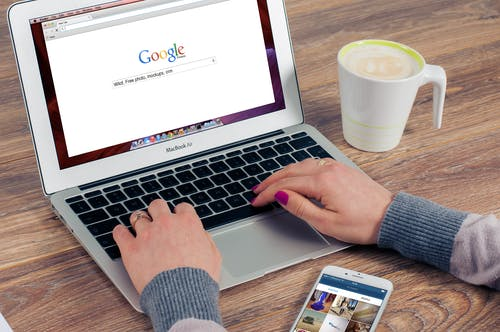 No matter what you call it, Google Ads (also known as Google Adsense, Ads, or Adwords) can be a powerful part of your B2B PPC strategy if you know how to use it to your advantage or partner with a digital marketing agency that can manage your campaigns. Though Google Ads for B2B is easy to set up, a sound campaign management strategy is necessary to leverage all the possible benefits of this approach. GoingClear empowers our clients to take charge of their digital marketing strategy to see the highest ROI and conversions. 
Determine what is working and what is not in your digital marketing efforts. 
Is PPC Worthwhile for B2B?
As its name suggests, a pay-per-click (PPC) advertising campaign like Google Ads is one in which you pay only when users click on the ads you have created. Google Ads is not the only PPC platform, but the fact that it hosts 3.5 billion searches daily makes it the most powerful. B2B buyers in particular overwhelmingly use search engines to research companies and products to support. PPC is not the only way to advertise online or be seen by internet users but there are many benefits to embarking on a Google Ads campaign for your B2B company.
PPC campaigns are cost-effective
Most of the standard B2B marketing tools require a substantial investment before seeing any increased revenue. Tradeshows come with registration fees, design and promotional spending, travel, and labor costs. Cold calling means training and paying staff not only to make contact with customers but to find the audience to reach out to in the first place. In contrast, Google Ads is customizable and allows you to specify exactly who your target buyers are for a more efficient ad spend. By using the right keywords, you will generate higher-quality leads with a greater likelihood of conversions.
PPC campaigns run continuously
Once your Google Ads for B2B are created, they are available for your prospective clients to find, 24 hours a day. Your ads keep working while you embark on other digital marketing campaigns, follow up on leads, and even when you sleep. This allows you to see a much larger return from a one-time effort. 
PPC campaigns appeal to B2B buyers
Modern business buyers tend to shy away from aggressive advertising campaigns with an emphasis on making the sale. Since Google Ads for B2B allows you to target who will see your ad, you are marketing to people who are already looking for exactly what you have to offer. The challenge your B2B PPC strategy faces is helping those buyers to find your company and its products and services.
Strategies That Work For B2B PPC Campaigns 
Getting started with a new digital marketing strategy is intimidating and Google Ads is no exception. With so many options, it can feel a lot more complicated than it is. Get organized, do your research, and do not be afraid to reach out to digital marketing agencies in Boston for help! Follow these tips to set up your PPC campaign for success:
It all begins with keywords
The keywords you select are at the core of your PPC campaign and are likely to be a large part of the reason that this strategy fails or succeeds. It may be a good idea for your company to begin the keyword generation process in-house, with members of your team brainstorming together and separately to suggest what your buyers are looking for, but it should not end there. Use keyword research tools online or Google Ads' built-in keyword planner. No matter what strategies you use, it may be a good idea to search using both your website and those of your biggest competitors, so you can see what is working in your industry. When looking for relevant keywords, also consider negative keywords, which are search terms that are not related to your product or services. Google Ads gives you the option to avoid these so you are not paying for low-quality leads.
Creating Your Ad
The ad itself will be what convinces internet users to either click through to your website or scroll on to the next company. Display ads need an attractive and attention-grabbing image that is easy for all viewers to see regardless of what type of device they are using. Your ads also need headlines and descriptions. Brainstorm ideas and then flush those out into ad copy that meets character restrictions. Make sure your ad copy highlights how your products and services meet the specific needs of your target audience. Mention any promotions or deals you are running or new services or features you would like to introduce. Most importantly, include a specific and easy-to-follow call to action (CTA) that directs your audience on what they should do next.
Do not ignore best practices
It can be tempting to differentiate your brand from other companies, but successful PPC campaigns follow a general formula. Google Ads offers many types of campaigns depending on your company's particular goals. If you are not sure which type of campaign you need, it makes sense to start with a campaign for the Search Network. Do the necessary research ahead of time to determine the key components of your campaign, which will need to be supplied to Google to get started:
Design a landing page

you would like the clicks to lead to: Make sure this page works properly, is fast and responsive, intuitive, free of errors, and is directly relevant to the ad you have created, delivering on any promises or offers made. It is a good idea to create a separate landing page for your campaign

Your target audience: Know who you are trying to reach and what sets them aside from the average person searching the internet, so that each click is more likely to result in a conversion

How much do you want to spend per day?

How much do you want to spend per click?
Get in Touch With B2B PPC Experts in Boston
Once your Google Ads campaign is launched, you can monitor the results and make changes as necessary. There are so many ways to use this powerful tool to build long-lasting relationships with your buyers. Take the first step today and reach out to GoingClear to build your B2B PPC strategy today!