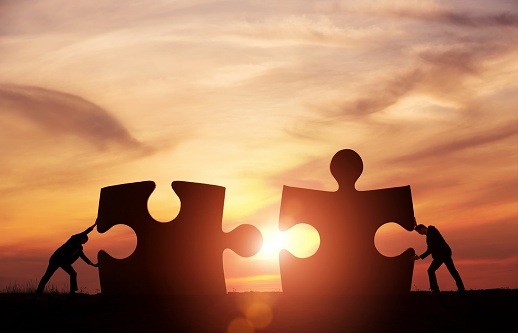 Setting objectives for your content marketing plan as a company is crucial to ensuring that your efforts are effective and consistent. They should be measurable, attainable, relevant, and time-bound (SMART).
Some examples of organizational goals for B2B content marketing include:
Increase brand awareness among target audiences
Generate leads and sales from content
Position company as a thought leader in the industry
Increase web traffic from organic search
Engage current and potential customers through social media
Increase in email subscribers
Improve customer retention
Drive revenue growth
What Is B2B Content Marketing?
Let's take a look at some of the trends, successes, and challenges in B2B content marketing. It's the practice of generating and delivering valuable, relevant, and consistent information in order to attract and keep a chosen audience — with the goal of creating profitable consumer action.
The Best Content Types For B2B Brands
B2B firms may use a variety of different formats to reach and engage their target audience, including blog posts and articles. There are several other forms that B2B companies can utilize to contact and interact with their target audience, including:
eBooks and white papers
Case studies
Webinars and webcasts
Infographics
Videos
Podcasts
Slideshares
How-to guides and tutorials
Templates and checklists
Research reports
When it comes to producing content, it's critical to consider the format that will best suit the subject and your audience's needs. Different types of content perform differently at various points in a buyer's journey, so you'll need a range of them to cover all your bases.
How To Create Your Own B2B Content Marketing Strategy
To create your own B2B content marketing strategy, you must:
Define your goals and objectives
Identify your target audience
Research your competition
Create a content calendar
Determine the type of content you will create
Promote your content
Analyze and optimize your results
B2B marketing is more successful when consumers are aware of the brand. Creating and distributing valuable, relevant, and consistent content can help you attract and retain a clearly-defined audience – and drive profitable consumer action.
Create Specific Campaign Goals for B2B
Some examples of SMART goals for B2B content marketing campaigns include:
Increase brand awareness by X% among target audiences by X date
Generate X leads and sales of content by X date
Position company as a thought leader in the industry by publishing X pieces of content by X date
Increase web traffic from organic search by X% by X date
Engage current and potential customers through social media by X% by X date
Increase email subscribers by X% by X date
Improve customer retention by X% by X date
Drive revenue growth by X% by X date
Achieve X social media shares for each piece of content published by X date
Get X pieces of content published in high-authority publications by X date
Define Your Ideal Client (User) Profile
A target audience is any group of people that a company wants to attract with its marketing activities. To produce content that appeals to your target audience, you must first identify who they are.
To do this, you'll need to figure out who your buyer persona is and what they look like. This involves defining and researching your ideal client so you can better understand their requirements, desires, and pain spots.
It's easier than ever before to make content that appeals specifically and directly to your target audience.
Research
Before you can develop content that will assist you in achieving your objectives, you must first understand what is already available. Invest some time researching your competition and observing the type of content they make.
This will provide you with a decent indication of the themes that interest your industry, as well as the kinds of material that are flourishing. It will also assist you in identifying any market shortages that you may take advantage of with your own content.
Analyze Competitors
Once you have a good understanding of the competition, it's time to start analyzing their content. There are a few different things you should look for, including:
The topics they are covering
The formats they are using
The tone and style of their writing
How often they are published
Where they are promoting their content
The results they are achieving
By taking the time to understand what's working well for your competitors, you can create a more effective content strategy for your own business.
Decide Buying Journey Stage Content-Type
The second step is to figure out which kinds of content will be most successful at each stage of the buyer's journey. Different sorts of materials work better at various phases, so it's vital to have a variety of materials on hand.
Align With SEO Strategy
Your content marketing strategy should be aligned with your SEO strategy to ensure that your content is reaching the right people at the right time.
Some examples of SEO-friendly content include:
Blog posts
Articles
How-to guides
Tips and tricks
Videos
Infographics
Case studies
Product reviews
Find the Right CMS Management Tools
Now that you know what kinds of material you'll need to produce, it's time to look for the ideal tools to help you manage your content effectively. A CMS, or content management system, will allow you to manage and store your information as well as measure its success.
There are a number of different CMS options available, so be sure to choose one that meets your specific needs.
Promote Distribute
The last step is to promote and distribute your content so that it reaches your target audience. There are a number of different ways to do this, including:
Social media
Email marketing
Paid advertising
Content syndication
PR and media outreach
By promoting your content across a variety of channels, you'll be able to reach a larger audience and achieve your content marketing goals.
Analyze Results and Iterate Based on Performance
After you've published your content, it's critical to track its performance and make adjustments as needed. You can find out what works well and what needs to be improved by analyzing the outcomes of your efforts.
This will help you to continuously improve your content marketing strategy and produce better results over time.
If you're looking for help with your content marketing strategy, contact GoingClear for a free consultation. We'll help you develop a plan to achieve your organizational goals and reach your target audience.