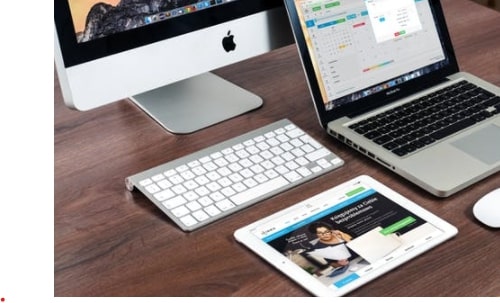 If your company is in the B2B space, then you already know that your website is the main way you reach out to potential clients and stay in touch with current clients. The constantly evolving algorithms that determine your placement on search engine results, along with the necessity to optimize user experience across desktop, tablet, and mobile, means that your company site is never "done," because there is always a new barrier to clear. Being able to make tweaks to your company site is vital to keep your web presence fresh and relevant. If your B2B website is not bringing in the clicks and conversions required to meet your goals, it might be time to think about a complete B2B website redesign plan. 
Is Your Website Compliant With Current Standards and Best Practices?
B2B UX Best Practices
Focusing on UX best practices does not always mean a full tear-down followed by a completely new creation of your company website. Often a redesign can utilize a great deal of the content you may have already invested in producing by reorganizing and streamlining the path a client or potential client follows when they arrive at your site. You cannot sit behind individual members of your target market and look over their shoulder to observe the clicking and engagement activity that occurs while one navigates a business website. That is where B2B UX best practices can help your company reach the next level in client satisfaction and sales conversions. Here's how GoingClear can make that happen for you.
What Are UX Best Practices?
Simply put, user experience depends on a synergistic relationship of usability, usefulness, and desirability of the components that make up the journey through a company's content. It may be easier to understand these elements if you consider that UX is not a concept unique to websites. There is user experience surrounding every facet of a commodity in every business model, whether you're a brick-and-mortar independent coffee shop or a highly specific B2B technical services offering. The enhancement of a user's experience determines the satisfaction of users (clients) while also aiding in increasing business sales and conversions by providing valuable interaction with your product or service. The basic considerations can be broken down into several standard rules.
Optimize Page Speed
As we enter 2022 and 5G data speeds become the overwhelming standard for the devices most people carry with them everywhere, demand for things to be fast is omnipresent. People are increasingly unwilling to wait for things, and that goes double for electronic content. This is a good time to include a check to make sure you've removed ALL Flash content that may have been lingering on your site.
Ensure a Mobile-Friendly, Responsive Site
If you haven't invested in a mobile version of your landing page, the time is way past due. As droves of workers continue to leave traditional office space for remote work, and increasing numbers of consumers fit web browsing and research into non-traditional areas (there are no desktop computers while sipping a latte in Starbucks, or while doing dual duty as parent field trip chaperone AND super-employee) anything that cannot get done on mobile may not get done at all. A redesign to ensure functionality is a GoingClear specialty, with a proven track record of increasing conversions from the moment the mobile version goes live.
Say More While Saying Less
Content that is easy to consume and understand with a quick skim is appealing. Keep unnecessary words and flowery language out of your website copy. If users feel overwhelmed by what they're reading or have trouble grasping the calls to action that are laid out, it is a massive turnoff. The same goes for bulky, overlarge text.
Do Better When Writing Headlines and CTAs
Well-designed and properly targeted headlines attract the audience that your B2B website is seeking. Keywords should be used in both headlines and subheadings that will help break up large blocks of text while guiding your potential clients to the areas of your site that will be most useful for their purposes. Similarly, Call To Action buttons (CTAs) should always help users to navigate by prompting a purposeful click or choice. The text of a CTA should always contain an action verb and be displayed prominently at key points during a user's journey through your site.
Conventions are Conventions for a Reason…
The goal of your B2B website is, naturally, to get the client or potential client to take some action. Though the evolution of SEO and web marketing has brought significant changes to the space, sometimes simple is best. Hyperlinks, for example, are a practiced way to direct action and focus. They should be blatantly obvious. Links should be underlined and appear in the text in a different color. They should be more than one or two words to increase visibility.
…But Generic Images Can Be Overused
Today's consumers are used to being sold to. For this reason, authentic content is what stands out from the pack to make a connection with users. Stock images, while easy to source and freely available, have gone the way of the dodo in terms of utility. Recent surveys support the theory that original images convey a better and more personalized message to users while increasing conversion rates by almost half when compared to content that is presented with standard generic photos.
Break Up Your Content!
Feng-shui isn't just for home decorating anymore! It is important for your page to "flow" in a breathable way. White or empty space gives both the design and your user time to breathe. A cluttered website decreases user attention. Balance content by organizing it into easily consumable pieces to make your message much more likely to be absorbed. Bullet points are also a great way to break up large tracts of information, as they make it more appealing by removing the intimidation of too many words.
Begin Your Boston Website Redesign
Contact GoingClear to start improving UX on your website. Using best practices for B2B web design, we will work with you for a more user-friendly digital experience.