New Book Shows Businesspeople How to Improve Their Websites (and Bottom Line) with Custom Web Apps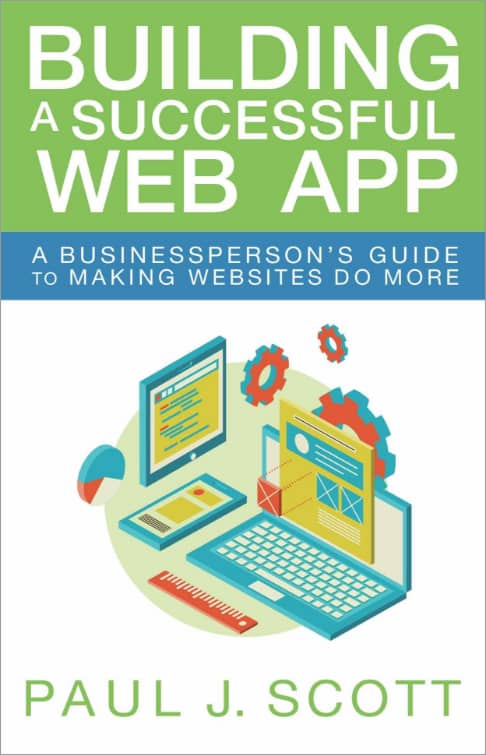 Perfect "get started guide" teaches businesses, entrepreneurs, professionals, and others how to create and use custom web software AKA: Web Apps
Veteran web developer Paul J. Scott likes to remind people that Facebook, Google, Amazon, and many other popular websites are, at their core, just giant web apps. At some point, he explains, someone had the idea of creating these apps. The question is, how do individuals who might not be comfortable with the language of web apps or apps in general begin creating and implementing their own ideas?
Scott's newly published book Building a Successful Web App: A Businessperson's Guide to Making Websites Do More shows entrepreneurs, professionals, and anyone with an idea for a web app or some sort of startup business idea how to get started and see the project through to completion.
The book does not teach readers how to code, but it does provide information from step one to the launch, covering how the process of coming up with a great web app concept works, how to choose the right programming team, what to expect along the way, and how to make sure you build a successful web app, whether it's a small add-on element to an existing website or an idea that could change the world.
Specific chapters in Building a Successful Web App range from "What Is a Web App…and Why Do I Need One?" to "How Businesses Use Web Programming Profitably" to "Finding a Great Web App Concept" to "Web App Development for Startups" to "Understanding the Agile Web Development Process" and more.
Scott comments, "If you've ever wished your website could do more than show visitors information about your company and its products or services, or if you have a great idea for a startup but don't know how to turn your concept into a great website, this book is for you."
"A friend recommended this wonderful little book on building a successful web app for my small business. I was looking for a book that could show me a step-by-step process to bring my vision into reality, where I could understand the language and guide me through the basics…This book answered all of my questions." ~ Amazon Review, 5 out of 5 stars
Building a Successful Web App: A Businessperson's Guide to Making Websites Do More by Paul J. Scott; Clearingly; Nonfiction; Business & Economics; Hard Cover 978-0-996687409 $22.95; Paperback 978-0-996687416 $17.95; eBook B01HYJGJE0 $9.99
Available: amazon.com and BN.com